Description
新潟駅南口広場イメージアップアート
新潟の玄関口である新潟駅や新潟空港へ向かうバスの発着所が隣接する新潟駅南口広場に、新潟市民にとって風土でもあり原風景でもある、日本海に沈む夕日の素晴らしさを、アートを通じて伝えたく、「夕日と新潟市民」をテーマに制作しました。新潟駅の高架化工事が終わる頃には、アートが描かれた壁面は撤去されますが、開通した道のその先には美しい本物の夕日が待つ日本海へと繋がります。
Image Enhancement Art at Niigata Station South Exit
South exit of Niigata station, the prefecture's main entrance where airport buss gathers, "Sunset and Niigata Citizen" themed art are produced and displayed. This piece captured sunset over Sea of Japan, which is known as Niigata's original landscape and climate. It will be demolished when elevated construction of Niigata station is completed, however ahead of new road which will be opening after the construction, the piece will come true and you will be able to enjoy the splendor of the sunset over Sea of Japan.
Size: 37m x 3m (1456in x 118in)
Sponsor: 新潟市 (担当:新潟駅周辺整備事務所) | STYLE DRIVE Co., Ltd.
Biography
DRAGON76
1976年滋賀県生まれ。ストリートアートを基本とし情熱的で生命力溢れるタッチで見る者の魂に触れるような作品を描く。そのスタイルは常に進化し、過去と未来や、静と動、正義と悪など、相反するものの共存をテーマに作品を生み出している。また、即興で繰り広げられるダイナミックなライブペインティングは世界中からのオファーも絶えず多くの観客を魅了する。2015年に日本で開催された世界的なストリートアートフェスPOW! WOW! JAPANへの参加をきっかけに、翌2016年にもPOW! WOW! TAIWAN, POW! WOW! LONG BEACHにも参加し、世界中のストリートアートシーンに名が広まる。2016年からは拠点をニューヨークに移し活動中。
Born in Shiga, Japan in 1976. Based on street art, Dragon76's artwork is passionate and energetic. It " touches our soul" and constantly evolving. The concept of his art style is "the coexistence" of two opposites such as past and future, stillness and motion, evil and justice. He also performs improvised and dynamic live painting shows around the world and always attract many audience. In 2015, he was invited to well known art festival, POW! WOW! JAPAN, and since then he has joined POW!WOW!TAIWAN and POW!WOW!LONG BEACH. In fall of 2016, Dragon76 resides and work in NY where his art and style continue to progress.
Portfoliobox: http://www.dragon76.portfoliobox.net/
Instagram: https://www.instagram.com/dragon76art/
facebook: https://ja-jp.facebook.com/Dragon76-178825522162556/
Video
A Touch of Art in Niigata with DRAGON76 – Better Days | Video Director: Shoyo Miyao (GROUNDRIDDIM / ZONVOX)
SPACE SHOWER NEWS – PEOPLE: DRAGON76
References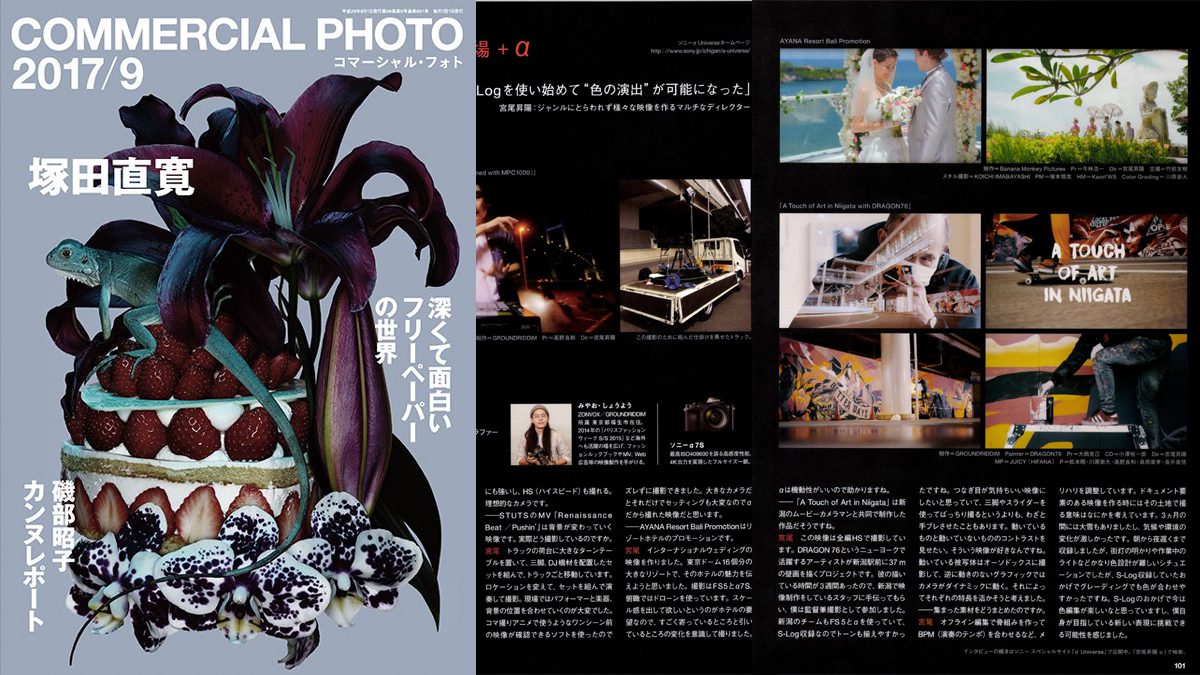 COMMERCIAL PHOTO 2017/9