Description
萬代橋130周年記念事業
1886年の初代萬代橋の開通によって、人や物の交流が活発化し、信濃川を境に現在の古町側の旧長岡藩新潟町と新潟駅側の旧新発田藩沼垂町のそれぞれの出自が異なることでの長年にわたる不和が徐々に解消され、生活圏が一体化されていったことで、近代新潟の発展を支える礎となりました。そして、現在の3代目となる萬代橋(万代橋)は、2004年には重要文化財に指定されるなど、新潟市のシンボルとして広く市民に親しまれています。こういった歴史的背景を踏まえ、「繋ぐ」をテーマに「人と人との繋がり」、「地域に暮らす人と街との繋がり」、「過去から未来に繋がる時間の流れ」を制作意図に込めました。
Bandai Bridge 130th Anniversary Memorial Project
Since opening of first Bandai Bridge (Bandaibashi) in 1886, Niigata's intercommunion and commodity distribution had gotten very active. Former Nagaokahan Niigatamachi on current Furumachi side and former Shibatahan Nuttarimachi on Niigata Station side finally buried their differences that had been caused by descent difference and unified the sphere of human habitation. This fact had become the foundation of modern Niigata's development. Current Bandai Bridge (Bandaibashi) which is the third generation, had been designated as a cultural asset of national importance since 2004, and loved by locals as a symbol of Niigata-city. Based on this historical background, "connect" is set to theme and captured "relationship", "connection between inhabitant and community", and "stream of time from past to current" into the piece.
Size: 21m x 3m (826in x 118in)
Sponsor: 新潟市 (担当:まちづくり推進課) | STYLE DRIVE Co., Ltd.
Biography
HITOTZUKI
アーティスト、KAMI と SASU による HITOTZUKI / ヒトツキ
1999年に共同制作を開始、東京を拠点に世界各地で壁画制作を行っている。
太陽と月を意味するHITOTZUKI(日と月)には、男と女、+とー、陰陽など相反する二つが調和し一つの世界を創るという制作の意が込められ、壁画を通じて現代の多様な社会とコミュニケーションしながら、日常に新たな風景を残し続けている。
The collaboration work of KAMI and SASU from 1999, aimed at expanding the stage for creativity rooted in the dimension of street culture.
Their distinctive worldview stems from the fluid interaction between the dynamically flowing curves fashioned by KAMI, and the strong and flamboyant symmetric motifs engineered by SASU.
This vision breaths new life into the sense of beauty derived from the street, and has succeeded in invigorating the era with a steady stream of vivid new landscapes. The pair views art as lying in the domains of their everyday lives, and while based in Tokyo, continues to lead a lifestyle interspersed with creative journeys around Japan and to overseas.
"HITOTZUKI", stands for the sun and the moon, being contrary to one another, they differ yet fuse together. Through their ideology, depicting scenery from their lifestyle and feelings.
HP: http://www.hitotzuki.com
Instagram: https://www.instagram.com/htzk/
Instagram (KAMI of HITOTZUKI): https://www.instagram.com/kami_htzk/
Instagram (SASU of HITOTZUKI): https://www.instagram.com/sasu_lyri/
facebook: https://www.facebook.com/HITOTZUKI-KAMI-SASU-138310772904732/
YouTube: https://www.youtube.com/user/HITOTZUKI
References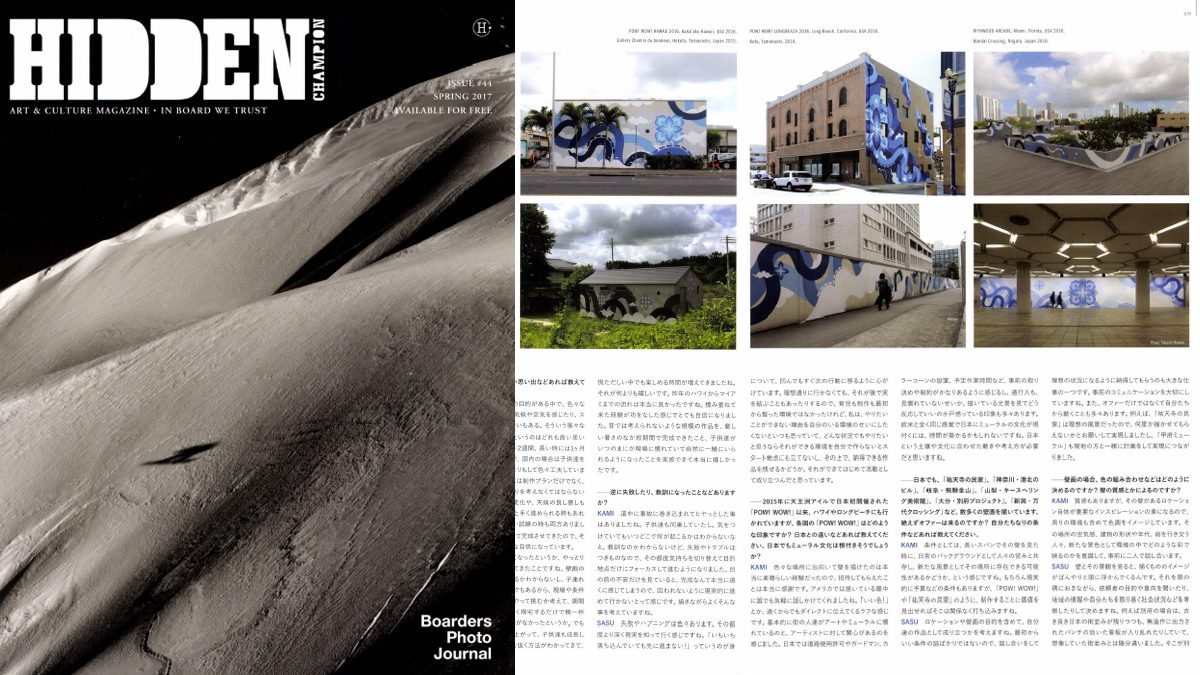 HIDDEN CHAMPION #44 Spring 2017