Description
G-SHOCK presents NIIGATA CUT IN PARK
企画を担った最初のG-SHOCK presents CUT IN PARKが万代島旧水揚場にて開催されるまでの過程において、万代島賑わい創出社会実験で制作された同施設のミューラルアート(参照: 1, 2, 3, 4)の存在が、新潟の次世代を担うユースカルチャーの可能性を拓いた切掛けと捉え、連動するスケートボードやストリートボール(ストリートバスケットボール)、ダンスなどが出来る施設としても活用出来るよう提案を行ってきました。
これらの経緯もあり、イベント開催に合わせアートとスポーツの融合による象徴的な場所になることを目指して、同施設に新たにストリートボールをテーマにしたアートを制作しました。このことは同時にストリートボールが一層身近なものとして街中でも気軽に楽しめるそんな場所になってほしいという願いも込めました。
G-SHOCK presents NIIGATA CUT IN PARK
Mural arts (reference 1, 2, 3, and 4) at the Bandaijima former landing spot that created for Creation of Bustling in Bandaijima, Niigata-city Pilot Program have made opportunities for Niigata's youth culture for next generation during the process of initial G-SHOCK present CUT IN PARK. This fact has led to make a proposal for extended use of this place for skateboard, street basketball and dance.
Based on this background, street basketball themed art piece at Bandaijima former landing spot is born aiming to become symbolic place that represent combination of sports and art during the gearing up period for this event. This piece also has deep desire for people to become familiar with street basketball and enjoy such in the area.
Size: 5m x 3.5m (197in x 138in)
Sponsor: STYLE DRIVE Co., Ltd.
Biography
Tadaomi Shibuya | 澁谷忠臣
1973年生まれ、横浜市出身。多摩美術大学 デザイン科 立体デザイン専攻 プロダクトデザイン専修 卒。
線的に再構築する世界感を持つイラストレーター/アーティスト。その独自のスタイルで数々の世界中の企業とのコラボレーションやクライアントワークを行っており、2008年にはGIVENCHYのエンブレムデザイン、 2011年にはNIKE AIR JORDAN CP3.IVのポスター、Tシャツなどビジュアル全般を手がけている。 また、2012年には、氏の描いたRGIIIのイラストが米ワシントンポスト特別号の一面を飾る。最近ではJORDAN BRANDからの依頼でマイケルジョーダン の88年のスラムダンクコンテストを記念したTシャツのデザインをてがけた。またこれまでに、hpgrp Gallery Tokyoでの個展をはじめ、2009年WeSC GALLERY PARIS、2015年バンコクGOJA galleryでの個展や、ロンドン、NY、LA、 台北などで数々の展示に参加、表現の場は国内外、ジャンルを問わず多岐に渡る。
Born in Yokohama, TADAOMI SHIBUYA has a background in Product Design, gained from Tama Art University, Tokyo.Tadaomi Shibuya is best known for his personal style of reconstructing images using straight lines and faces that are inspired by broad range of motif. Shibuya's unique style has led him numbers of creative projects including GIVENCHY's emblem design in 2008 and overall visual directing of NIKE AIR JORDAN CP3.IV in 2011. In 2012, Shibuya's RG3 illustration of Redskins was introduced on a special edition of Washington Post. Shibuya also worked for JORDAN BRAND in 2014 and designed a memorial t-shirt celebrating the Slam Dunk Contest win back in 1988. Shibuya has introduced his works through private exhibitions at hpgrp Gallery Tokyo and WeSC GALLERY PARIS in 2009, and participated many collaborating exhibitions in London, NY, LA, Taipei and Bangkok. His artistic expression keeps evolving across time, places and genre.
HP: http://tadaomishibuya.jp/
Instagram: https://www.instagram.com/tadaomishibuya/
Video
G-SHOCK presents NIIGATA CUT IN PARK | Video Director: Hideaki Tsubaki (Grid)
NHK WORLD TV – SPORTS JAPAN
References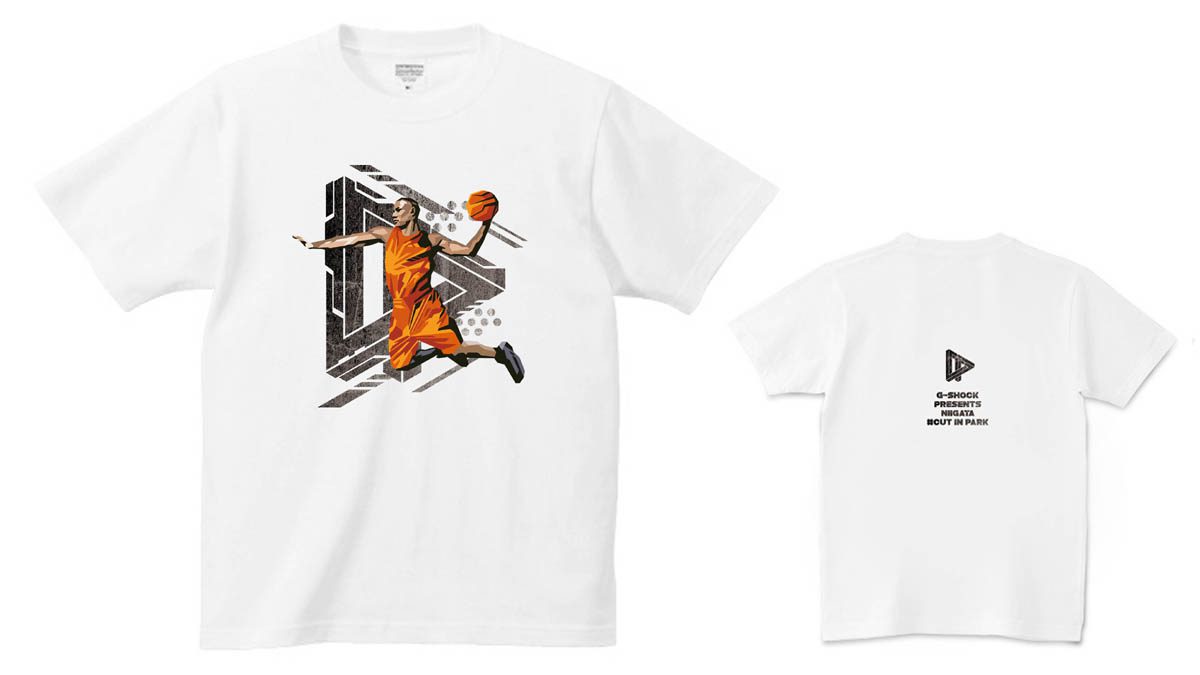 ・G-SHOCK: G-SHOCK WORLD